Update: 今年不涨学费的约克秋季能否正常开学?
截
止到5月12日,安省已有超过半数(54%)的民众接种了至少一针新冠疫苗!随着加拿大疫苗接种计划的不断推进(预计9月前可达到全民免疫),约克大学也在为校园的重新开放做着积极的准备。
原文来自安大略省新闻网:https://news.ontario.ca/en/release/1000114/over-50-per-cent-of-ontario-adults-receive-first-dose-of-covid-19-vaccine

约克大学工程学院大楼

从上周最新的校长信中,我们可以归纳出以下3条重要信息(划重点):

1. 今年秋季将有50%的课程恢复线下面授
2. 同时,约克将继续提供高质量的线上课程,满足无法参加面授的同学
3. 预计冬季学期可以全面恢复线下
原文如下:
York University

La version française suit la version anglaise.
Dear York Community,
In my last update in March, I shared details with you about our plans for the safe return to York's campuses this fall based on public health and government guidelines. Faculties began the work of identifying priorities for in-person instruction based on an assumption of being able to utilize about 25 to 30 percent of our space.
Understanding the significant impact on our students, our goal has been to ensure that all students have access to some in-person instruction, while also being mindful of the needs of students who may still require remote access to courses. We also indicated that we would continue to closely monitor for any updates impacting the higher education sector. Over the past few weeks, a number of new developments have led to a more optimistic outlook for the Fall and Winter Terms.
While the current rate of COVID-19 infections in the Greater Toronto Area remains high, there are indications that the situation may significantly improve by September. The Provincial Government has announced an accelerated vaccine roll-out, which will expand eligibility to all members of the York community this month.
There is also a growing recognition that with continued stable vaccine supply, people may be able to access their second doses sooner. Health Canada has also approved the Pfizer vaccine for children aged 12 years and up, and there are indications that, pending review and approval, this could be expanded further to children aged 5 to 11 years old by the end of summer. In short, it is expected that more people will be fully vaccinated sooner over the summer months.
While we do not yet know exactly what the fall will look like, current guidelines indicate that it will be possible to significantly increase in-person learning and co-curricular opportunities on our campuses this fall. We are therefore preparing a more optimistic scenario with closer to 50 percent of courses being offered in-person, focusing on offerings for first- and second-year students, whose transition to university has been greatly impacted by this pandemic.
虽然秋季会是什么情况尚不完全明确,但就目前的指导意见显示,今年秋季校内的面授课程和课外学习机会将有可能显著增加。因此,我们正在筹备更为积极乐观乐观的方案:近50%的课程将提供线下的面对面授课,主要针对大学过渡阶段被这次疫情严重影响的大一和大二学生。
At the same time, we will continue to provide access to a high-quality remote learning experience for those who are not able to attend classes in person this fall. As always, the health and safety of our York community comes first, and we will continue to closely monitor the public health situation over the coming months to determine the best course of action for our community. We understand that everyone is eager for certainty. This updated plan is based on the most recent projections, and courses will shortly be uploaded for course registration this fall. We will also be able to plan for more staff, faculty, and instructors on our campuses as the situation improves, and we will regularly update you as plans evolve.
同时,我们将继续为今年秋季无法到校上课的学生提供高质量的远程学习体验。一直以来,约克社区的健康与安全都是第一位的,我们将在接下来的几个月中继续密切观察公共卫生状况,以确定我们最佳的行动方案。我们了解大家对确定性的渴望。这套更新的计划是基于对形式的最新的预测,课程会尽快公布以便同学们的秋季选课。随着情况的改善,我们还计划在校园中投入更多的教职员工和讲师。随着计划的推进,我们也会定期向您更新。
Based on the latest projections, we are preparing for a full return to our campuses for the Winter Term. In the coming weeks and months, we strongly encourage all members of the York community to get their COVID-19 vaccine at their earliest opportunity, to protect themselves and their families, loved ones, and colleagues as we look forward to coming together again.
基于最新的预测,我们正在筹备冬季学期的全面返校入学。在接下来的几周和几个月中,我们强烈鼓励约克社区的所有成员尽早接种新冠疫苗,以保护自己和家人、亲人和同事,因为我们期待着再次相聚。
We encourage you to join us at the Town Hall this Wednesday, May 12, from 3:00 to 4:30 pm, where we will be able to answer your questions and discuss this outlook for the Fall and Winter Terms. I look forward to seeing you there, and will continue to keep you updated in the coming months as our planning continues.
Sincerely,
President & Vice-Chancellor
原文链接:https://www.yorku.ca/bettertogether/2021/05/12/revised-outlook-on-the-fall-and-winter-terms/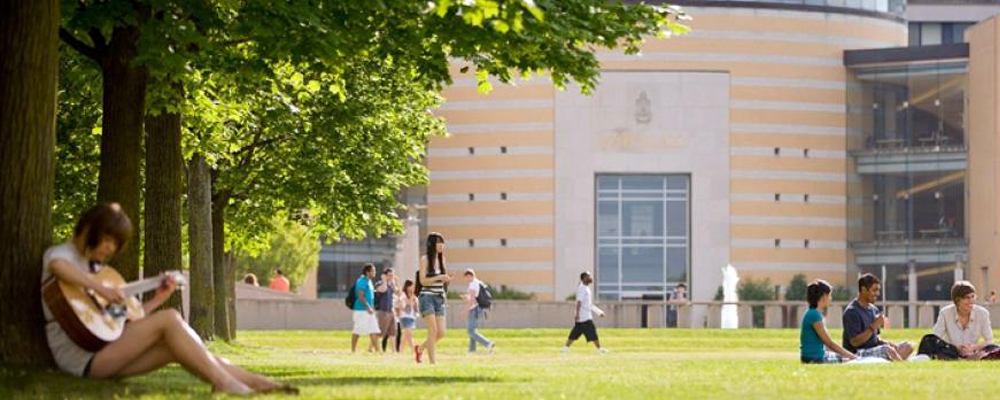 Vari Hall 前的草坪
紧接着,约克副校长Lusy Fromowitz 又给大家分享了很多实用信息:

Dear XXX,

Hello future Lion! I know it's one of your most pressing questions right now, so I am following up on President Lenton's recent update about our plans for a safe and gradual return to in-person learning on our campuses.
Increasing Opportunities for In-Person Teaching
Current indications, such as an accelerated COVID 19 vaccine roll-out across Canada, support increasing in-person learning and co-curricular opportunities on our campuses. We are planning to offer up to 50% of courses in-person for the Fall 2021 term and a full return in Winter 2022.
The course timetable will be published at the end of May on the
York Courses website
and each course will identify whether the class will be held in-person or taught remotely. As you review these courses, if you do not plan to join us in-person at the start of the Fall term, you should enroll in remote Fall classes only.
课程具体的时间安排将于5月底在York Courses官网公布:
https://w2prod.sis.yorku.ca/Apps/WebObjects/cdm
。每门课程都将标明是线下面授还是线上授课。如果你不打算在秋季学期返校参加线下的面授,则请只选择远程线上的秋季课程。
Course enrolment will begin in June and we will be reaching out to you with information about your enrolment date. Don't hesitate to
contact your academic advisor
if you have questions about your enrolment date or the enrolment process.
选课将从6月陆续开始,具体日期和信息我们将邮件通知。任何问题可以联系所属学院的学术指导老师:
https://advising.students.yorku.ca/locations
Continued Access to Remote Learning
We also look forward to engaging with you online. York will continue to provide access to a high-quality remote learning experience, and we are committed to providing support and resources for you to maximize your success.
我们也期待与你的线上互动。约克将继续提供高质量的远程学习体验,以及各种线上支持和资源,以最大化你在约克的成功。
We're waiting to welcome you to your new community!
Whether you'll live on campus, commute to your classes or study remotely this fall, we have supports and resources ready to help you thrive and succeed. Learn how you can
get ready for your first year
at York.

欢迎加入约克大家庭!

无论是住校、走读还是远程学习,约克都将投入大量的人力物力来保证同学们的学业顺利。了解如何为大一做好准备:
https://futurestudents.yorku.ca/first-year
The health and safety of our York community always guides our decisions. We continue to closely monitor the public health situation and will provide updates.
约克社区的健康与安全始终指导着我们的决策。我们将继续密切关注公共卫生状况,并更新最新信息
。
If you have not already
accepted your offer of admission
to York for this fall, I encourage you to do so and look forward to welcoming you on our campuses in the near future.
如果还未接受约克的秋季录取,请尽快操作
www.yorku.ca/myfile
,
期待在不久的将来在
我们美丽的校园迎接你的到来。
Best wishes,
Sincerely,

Lucy Fromowitz
Vice-Provost Students
York University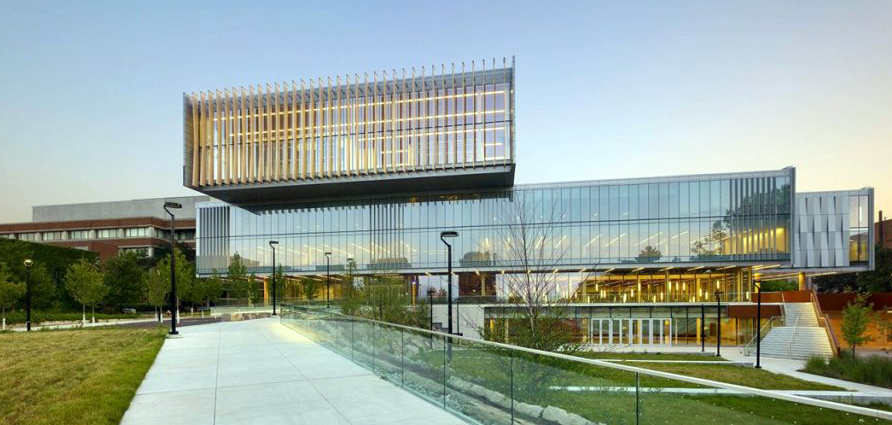 约克大学学生中心

同样,约克的大部分语言项目(学术英语AP、直通车PDY/DY、桥梁YUB、研究生预科GSPP),也将在秋季提供:混合式教学 blended(线下与线上结合 in-person and online)和实时线上教学(remote, live-online ),以满足不同学生的需求。
For on-campus, face-to-face classes, we aim to exceed government-mandated health regulations to ensure the safety of students, faculty, course instructors and staff.
校内线下授课会在符合政府要求的健康原则下开展,以确保学生、教职员工和讲师的安全。
Our blended program offerings will follow this weekly structure:


· 6 hours in-
person class in a social distanced classroom


· 6 hours synchronous learning in a live-online Zoom classroom environment


· 8 hours asynchronous, self-directed online learning
混合式教学每周课时安排如下:
· 6课时在能满足社交距离的教室面授


· 6课时Zoom实时同步教学


· 8课时非实时的线上学习
if you are unable to travel to Canada, or are not comfortable attending in person classes this fall, we will also continue to offer remote, live-online delivery of all our English Language programs.
In person classes are also entirely dependent on government-mandated lockdowns or public health restrictions at the time, and we will adjust our approach accordingly if in-person gatherings are prohibited.
如果无法前往加拿大,或者不希望在今年秋季参加线下授课,我们还将继续提供远程线上的英语课程。
线下的面授也完全取决于届时政府的相关规定或公共卫生限制,如果线下活动被限制,我们将相应调整授课方式。
Additionally, if we are unable to meet an enrollment threshold for each program session, we will not offer a blended option and deliver the program completely online. If we are unable to hold face-to-face classes, we will still plan to hold in-person social events for students in the country that meet government regulations.
此外,如果课程的最低开课人数未达到,混合教学亦无法开展,而将以完全线上授课取代。如果面授无法实现,我们仍将在符合政府规定的前提下为学生举办面对面的社交活动。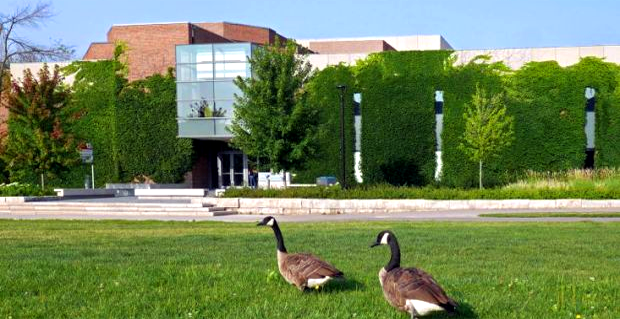 约克大学法学院
从去年3月中旬世卫组织宣布新冠肺炎成为全球大流行病开始,加拿大所有大学立即响应政府决策全面改为线上授课,以保证学生和教职员工的安全/健康。这一年多,你还好么?约克大学校长 Rhonda Lenton 再次

对大家的理解和支持表示诚挚的敬意和感谢

!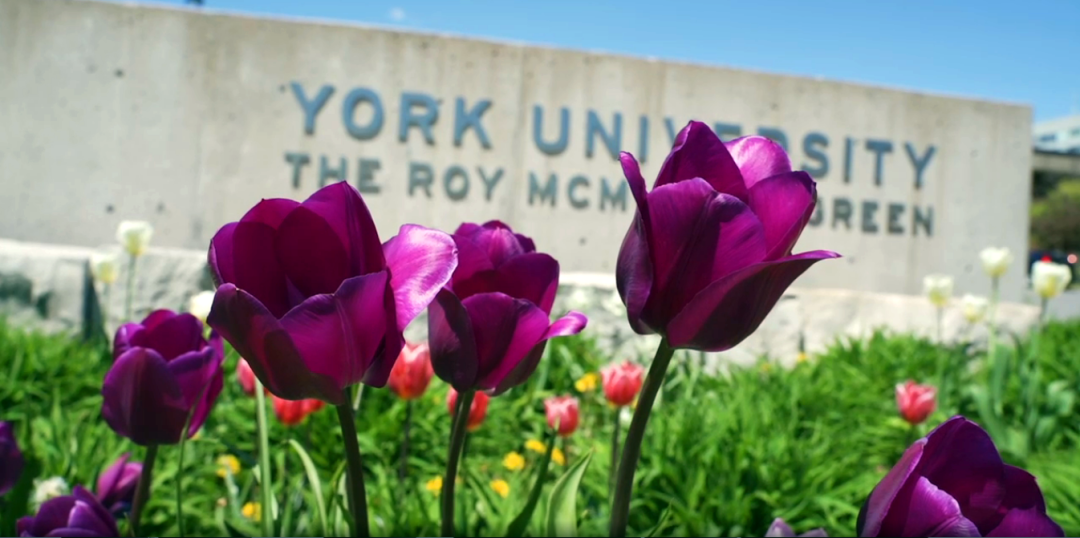 春暖花开的约克大学


另外,虽然每年学费按比例小幅度的增长是各大学的惯例(很多大学依然在这样执行)…… 但在如此严峻的情况下,约克大学
却承诺
今年不增加国际学生学费
!绝对是实实在在的良心大学!
而且,约克大学还会为准备入境的新生提供免费的隔离酒店、一日三餐、外加心理疏导服务!要不要这么暖心?!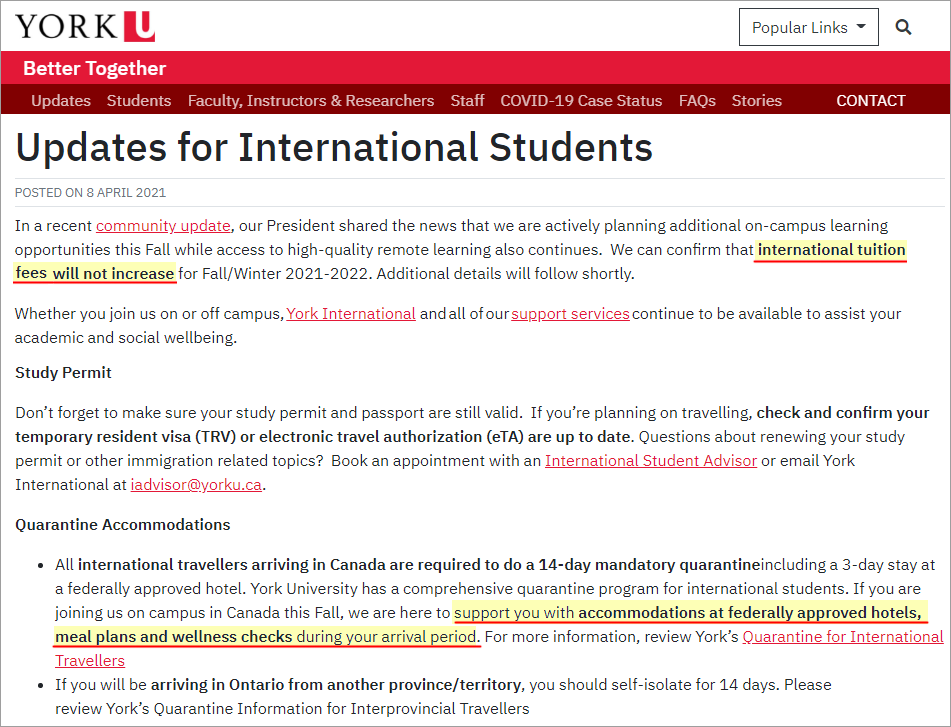 原文链接:
https://www.yorku.ca/bettertogether/2021/04/08/updates-for-international-students/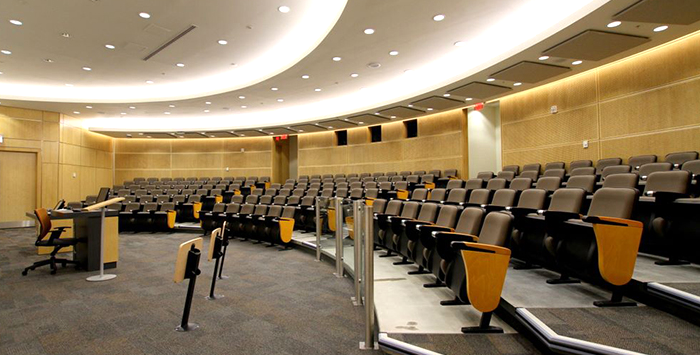 如果决定秋季到校的同学,请务必仔细阅读"约克国际学生的旅行和隔离信息":
https://yorkinternational.yorku.ca/quarantine-information-for-international-travellers/
任何问题请联系约克国际办公室:
iadvisor@yorku.ca

无论线上或是线下授课,约克大学都会在安全第一的前提下,不遗余力地保证教学质量和提升学习体验,让同学们可以安心地完成学业。
(由于疫情在持续变化,学校政策可能会有调整,请随时关注我们微信公众号了解最新信息。)
加拿大约克大学

www.yorku.ca(English)
www.yorku.org.cn(中文)